Pre-Galvanized Steel Pipe
Sources: this site Click: Date: 2019-12-13 2:53:52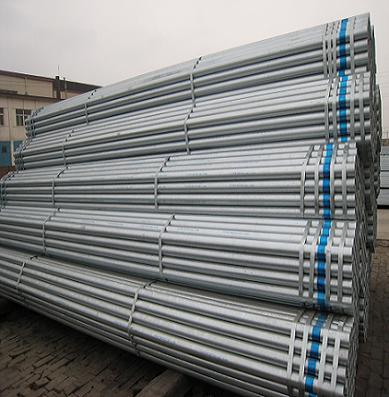 Pre-galvanized steel pipe is made of galvanized steel strip.However, it's antiseptic properties is poor than hot dipped galvanized steel pipe.
Material Inspection (Steel Pipe) --- Hanging --- De-greasing --- Rinsing --- Pickling --- Washing --- Dipping Fluxing --- Hot Air Drying --- Inside and Outside Hot-dipped Galvanizing Blow
--- Cooling --- Passivation and Rising --- Unloading --- Inspection and Trimming --- Type Identification --- Packaging and Storing and Transportation
2. Product Information
Specification: OD: 21.3mm ~ 610mm
WT: 0.5mm ~ 20mm
LENGTH: 0.3mtr ~ 18mtr, Ramdon Length, Fixed Length, SRL, DRL
Standard and Grade: GB/T 3091 Q195/Q215/Q235/Q345, BS 1387, EN 39, EN 1139 S235JR/S275JR, ASTM A53 GR. A/B/C, JIS G3444 STK 400/STK 500
Pipe Type: Electric Resistance Welded Steel Pipe (Round/Square/Rectangular)
End: Square Cut/Threaded, Burr Removed
Zinc Coating: 10~50 g/m2
Packing: Steel Strips bundled, Plastic Caps plugged, Waterproof Paper wrapped etc.
Application: Used for transporting low pressure liquid, gas and heating